Julia Juremi is a Lecturer under the Network, Security & Forensics cluster in Asia Pacific University of Technology & Innovation (APU), lecturing in the areas of Computer Architecture, Computer System Security, Advanced Cyber Security, Malicious Software & Secure Programming, Security Technologies and Security Operation Center & Incident Response. She received her PhD from Universiti Putra Malaysia (UPM) in 2018 where the focus of her study is Security in Computing focusing on Cryptography and Block Cipher Encryption. She is part of the course and module development team for BSc in Cyber Security & Forensics and MSc in Cyber Security for APU. She was the first program coordinator for APU Security Operation Center (SOC) and have been managing the SOC ELITE Program, which is a platform for the students to conduct Simulation, Research & Development on Cybersecurity under the collaboration with TecForte Malaysia. She is a Certified SOC-IR (Security Operation Center-Incident Responder), Certified TecForte SOC (Training the Trainer), Certified ISACA CSX where she is one of the Trainer for Empowering Women in Cyber Risk Management Programme. This programme is part of a strategic ongoing effort to build up talent in the cybersecurity field as well as to provide skills needed for women to return to the workforce. She has also earned a badge as Rocheston Certified Cyber Security Engineer Level 1 (RCCE). She has just completed her Internal Grant (Head of Project) with a research entitled "Substitution of AES Key Scheduling for the Enhancement of Randomness Effect on AES Block Cipher Algorithm" and she is also one of the FRGS Grant Holder awarded by the Ministry of Education Malaysia where she works as the Co-Researcher in a research entitled "Crime Scene Investigation Framework Incorporating 4IR Technologies".
PROFESSIONAL AFFILIATIONS
Member of CSAM (Cyber Security Academia Malaysia)
    PROFESSIONAL CERTIFICATIONS
Completed CompTIA Pentest+ Certification – March 2021
Certified HRDF Train the Trainer – July 2020
Completed RCCE (Rocheston Certified Cyber Security Engineer Level 2) – November 2019
Certified ISACA CSX Fundamental Certification – September 2019
Certified RCCE (Rocheston Certified Cyber Security Engineer Level 1) – Aug 2019
Certified SOC-IR (Security Operation Center-Incident Responder) – Jan 2019
Certified TecForte SOC (Train the Trainer) – Nov 2018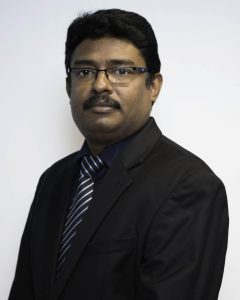 Arun has an expertise in the areas like Wired/Wireless Network Routing Protocols, Ad-hoc Network Routing Protocols and Wireless Sensor Network Routing Protocols. He has a teaching experience of 20 years in both International and National academic organizations of which he has been teaching various subjects in Computer Science, and Information Technology, and has guided many projects in these areas. As part of his research activities, he has published several technical papers on the topics related to his research area in International Journals and Conferences having good impact factor. His papers are indexed in Scopus journals and My Cite as well. He has chaired conference sessions organized by IEEE and also an Associate Editor of several International Journals. He is EC Council certified Hacking and Forensic Investigator and Rocheston Certified Cyber Security Engineer.Also, he is AWS certified cloud Practitioner and awarded as AWS Academy Accredited Educator. He has involved in government funded projects that emphasizes the importance IT skills and knowledge for all the sections of society, including children, students and adults.
Dr. Mohamed Shabbir Abdulnabi received his PhD in Computer Science (Computer Security) in the year 2018 from University of Malaya (UM) under the high impact research grant (HIR) funded fully by ministry of higher education of Malaysia. He has also obtained his master in Computer Science (Information Security) in 2012 from the same university.His current research interests are in computer and information security that includes network, website and smartphone security. His research interest also extends towards secure transmission of confidential information between different stakeholders.His journey with cybersecurity started since 2010 and in 2014 he became certified ethical hacker (CEH) followed by certified hacker forensics investigator (CHFI) in 2017 from EC Council Academy. In 2019 he has earned a badge as Rocheston Certified Cyber Security Engineer Level 1 (RCCE).He became a member with ISACA Malaysia chapter in 2015 and since 2016 he is the faculty advisor for ISACA – APU student branch involving APU students in various cybersecurity activities and events. In 2019 he was ISACA CSX cybersecurity fundamentals certified and conducted training for empowering women in cyber risk management programme.Currently he is working as a lecturer in Asia Pacific University, teaching cybersecurity and digital forensics related modules for bachelor and master level.Dr. Mohamed Shabbir has a good publication record, he has several high impact factor publications in ISI-Tier-1 indexed journals with a good record of citations placing him among the top 5 highly cited researchers in APU.
Nor Azlina Abd Rahman is a Senior Lecturer at Asia Pacific University of Technology and Innovation (APU) Malaysia. She is one of the Research Management Committee in APU, an instructor for CISCO Academy and an Advisor for Forensic and Cyber Security Student Section (FSEC-SS). She has been in the academic industry for more than 10 years and 10 years experienced working in industry as a System Analyst. Her research interest includes cyber security, network security, educational technology and other areas. She is actively involved in project exhibition and won Gold medal for EduQRation project, silver medal for Smuggy system and Learning portal for students with Dyscalculia. She is also involved in coaching the students in hacking competition such as Cyber Heroes, I-Hack, Game of Hackers, F-Secure and Regional Cyber Challenge.
Yusnita Yusof is a Senior Lecturer at Asia Pacific University of Technology and Innovation (APU) Malaysia. She is a member of Forensics and Cyber Security Research Centre (FSec), managing students' involvement in cyber security / CTF competitions. A team of lecturers work together to assist students in these competitions and in organizing workshops and knowledge sharing sessions. The recent competitions include F-Secure Cyber Security Competition Malaysia 2020, Regional Cyber Challenge RCC 2019, UniKL Game of Hackers 2019, Cyber Heroes Competition 2019 and EY Asia-Pacific Cyber Hackathon Challenge 2019 to name a few. She has been in the academic industry for more than 10 years. Prior joining the academic, she has working experience in industries for about 3 years as a software engineer. Her research interests are within the scope of cyber security, digital forensics and educational technology. She was involved as one of the Panel of Experts in Global ACE Scheme Workshop: KSA 3.0 Enhancement and attended Cyber Forensics Colloquium, both organized by CyberSecurity Malaysia (CSM) in 2019. She won Silver award for Smuggy – Web Application Security Learning Platform in STEM Teaching Innovation Awards during Malaysia Technology Expo (MTE) 2019 and Gold award for Improving Audience Engagement during Learning Events with QR Code Technology in Invention, Innovation & Design on e-Learning (IIDEL) at International University Carnival on e-Learning (IUCEL) 2018.
Umapathy Eaganathan is one of the Lecturer in Forensics and Cyber Security field. He has more than 10 years of experience in academic however, there are various role has been played such as symposium co-ordinator, internal and external reviewer, fyp supervisor for degree students also for master level students. His research area mainly focusing on image processing, software engineering, information systems and networking. Teaching subjects are included such as Distributed Systems, Computer Architecture, Operating Systems and Computer Architecture, Biometric-1 and Bio-metric-2, Computer Systems Architecture etc. There are more than 15 research papers have been published in scopus indexed journals. He has achieved certificate from Rocheston, Newyork Cyber Security Engineer in both RCCE1 and RCCE2. Currently, he is pursing PhD in Asia Pacific University, Kuala Lumpur.
Maryam Var Naseri is an information security researcher and digital forensic investigator. She is pursuing her PhD on Intelligent Honeypot with VUW, New Zealand (under Merit-scholarship program), she received her Master of Information Assurance from UTM, Malaysia, as well as her bachelor's degree under Information System Security under APU.Her domain of interests includes Cybersecurity Threats Detection, Behavioral Analysis, and Deceptive Systems. She holds multiple certifications such as CEH (Certified Ethical Hacking), CHFI (Computer Hacking Forensic Investigator), and ECSA (EC-Council Certified Security Analyst), ISACA CSX (Cybersecurity Nexus). Currently she works as a Cybersecurity lecturer in Asia Pacific University of Technology and Innovation (APU) and being involved with number of Cybersecurity and Cyber/Digital Forensics modules subject to Penetration Testing, Advanced Forensic Methods, Digital Security and Forensic, Security and Forensic Techniques etc. Additionally, taking charge of APU Digital Forensic Lab with aim of supervising students in their research and being involved with industry collaborations. She is also one of the committee members of newly stablished cyber security research group called CyberCrowd.